Before you judge this room, please consider this the before picture.
Okay, you can judge me. Because I'm not a decorator, or a seamstress. I'm just a DIY kind of girl who believes that where there's a will there's a way! I know I still have to incorporate some color and accessorize in this living room, but I'm pretty excited about my start… because of the gray.
Yes, I have fallen madly in love with gray, along with a large portion of America.
I'm all about neutrals and I've always love black and white anything. So gray is like the best of both worlds, right? I love that the main focus of the room is the piano. So, I have to stay with a little bit of black, but I wanted a lot of gray. The wall color is "bedford gray" (Martha Stewart at Home Depot) and I love it so much, I painted my son's room the same color. The chairs are from World Market and the little table from Pier One. But I wanted to share how easy my faker drapes were to make.
I didn't need functional drapes because of the shutters, so I skipped the whole lining thing. I just needed some pretty fabric to frame out these windows. I used regular 44″ fabric and measured the length I needed to make the drapes reach the ground. Then I hemmed the sides and mitered the corners. I used this napkin tutorial to make napkins recently, so I basically treated this piece of fabric like a huge napkin. Is that allowed? I'm not sure, but it's good enough for me!

My fave drape rods are allen + roth from Lowe's. They're chunky and easy to use. The rings come with loops that you could put pre-made drape hooks in, and they also come with little clips you can use!

You can clip these right on top of the fabric like you see here.

Then it will look like this. Which I wasn't that impressed with. I love the function of the clips, but I didn't really want to see them. So I did some experimenting.

What I ended up liking was when I did it this way: I measured my ginormous napkin and divided it evenly to see where I would put my 7 clips. Then I ironed a pleat in each increment to mark where I would place the clip. I placed the clip about 2.5″ lower than the top.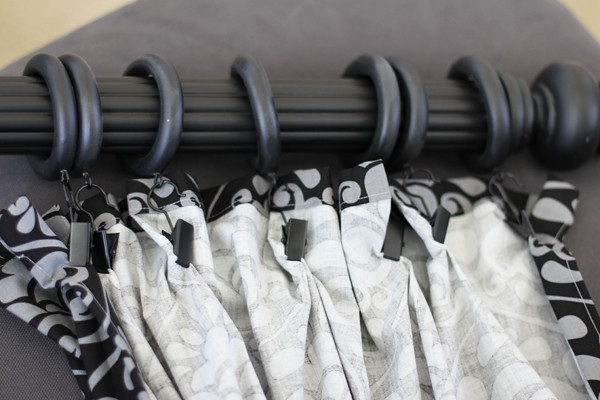 So then when I hung the rod, the top of the fabric covered the clips. This is the look I was going for.

See the difference? They are both fine, but I think hiding the clips looks a little more formal.

I have fun experimenting as an amateur designer in my home. I've already picked out some pillows and I'm on the hunt for fabulous accessories. I can't wait for the finished product. The best part will be sitting in this room, listening to my kids play piano, as I look at the drapes and think to myself, "those are some cool and really large napkins."